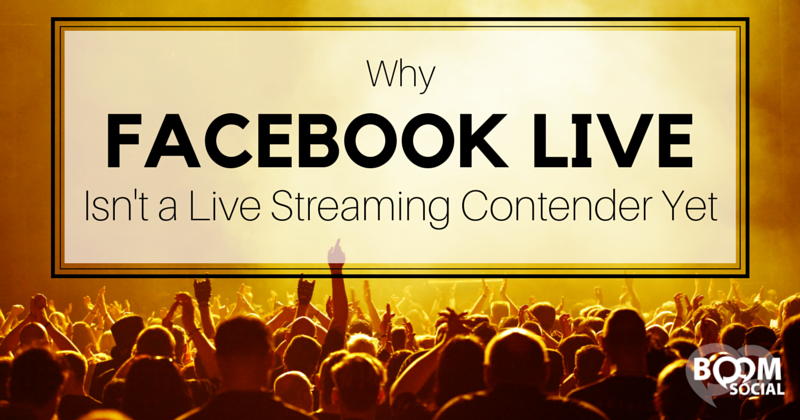 You have probably noticed I have been talking a lot about live streaming lately – Twitter's live streaming app, Periscope, in particular. Well, today we are shifting our focus, because Facebook has just launched its very own live streaming app called Facebook Live!!
But before you get too excited, let's be clear about something: Facebook's live streaming feature is still miles away from replacing Periscope for most users. This post will discuss why Facebook Live isn't a live streaming contender YET, and what you can expect from Facebook Live in your news feed over the coming weeks.
Facebook Live is only available to people with verified pages
What is a verified page, you may be wondering? A verified page is one that has been deemed as authentic by Facebook. Once a page has been verified, a small badge (a blue circle with a check mark in it) appears next to the page name.
The average business owner or industry expert probably doesn't have their page verified. Currently, this feature is only available to celebrities, global brands and major media outlets.  This is obviously a huge problem, as it precludes the remaining 99.9% of Facebook's user base from using the feature. If, however, you feel you meet the qualifications of celebrities, global brands and major media outlets, you can request to have your page verified.
Facebook Live is only available for pages
As in, individual users can't broadcast a live stream on Facebook through their personal profile. This is a huge problem, as far as I'm concerned. Periscope allows anyone and everyone to broadcast, making the app useful for celebrities, businesses, as well as the average user.
If Facebook is planning to become a true live streaming contender, they are going to need to rethink their strategy, and make it available to ALL users – pages as well as individual users.
If you are already struggling to get reach on your page's posts then adding video isn't going to help
Let's say Facebook Live does become available to the average page owner (not just celebrities and public figures). Would it become a live streaming contender then? I would argue, no.
Facebook post reach is a serious problem for many page owners. Recent research has shown organic post reach of around 11% for pages with fewer than 10,000 likes, all the way down to 5% for pages with 100,000+ likes.
Translation: If your page has, say, 5,000 fans, only around 550 of your fans will see your live stream in their feed. Keep in mind this isn't the number of people who will actually WATCH your broadcast; this is only the number who could potentially see your post.
One way Facebook is currently dealing with this problem is to send notifications to fans when a live stream starts; unfortunately, these notifications only go to fans who have recently interacted with the page. This is a serious problem for Facebook, and one they'll need to deal with if Facebook Live is ever made available to the average user.
Does Facebook Live have any advantages over Meerkat and Periscope?
From a user perspective, Facebook Live does have some advantages over its competitors, in my opinion:
Live videos will automatically be saved to the page, and will be continue to be available as a recorded video. While broadcasters can choose to delete their videos right after shooting, videos will be saved by default. On Periscope, videos are only available for 24 hours (there are workarounds for this, but this is the default), and on Meerkat, videos are deleted immediately once the broadcast has ended.
Broadcasters can add certain words to their 'blacklist' if they want to avoid certain topics or minimize inappropriate language. This is a great feature for keeping broadcasts relevant and for avoiding unwelcome comments.
And, one of the biggest advantages, in my opinion, is that the videos are viewable in landscape versus portrait.
Where can I go for more information about live streaming?
If this post has piqued your interest and you'd like more information about this whole live streaming trend, here are some articles for further reading:
7 Ways to Engage Your Audience on Periscope
How to Overcome the Fear Factor of Going Live on Periscope
5 Quick and Easy Ways to Use Periscope to Drive More Sales
Are you seeing Facebook Live in your feed? What do you think of Facebook's new live streaming feature?
About Author