Who doesn't need – or at least want – more clients?
As a service-based business owner, clients are the foundation of your business.
Unfortunately, most business owners struggle to maintain a steady stream of clients…meaning they may end up spending more time LOOKING for new clients than actually serving them! It's feast or famine, right?
But, what would you say if I offered you a way to books clients RIGHT now, so you could generate cash on command?
It IS possible!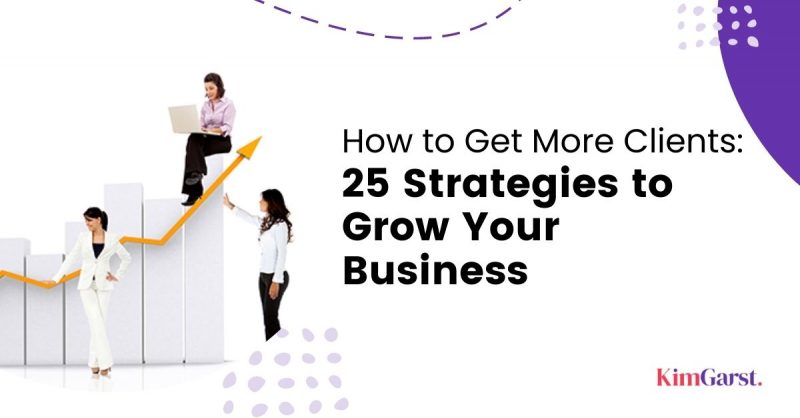 In this post, I'm going to show you how to get more clients using a super-powerful strategy: the discovery call.
Following are 25 ways to get more clients and grow your business using this ONE core strategy…talk with people!
1. Send a Quiz to Your List and Based on Their Answers, Invite Them to a Call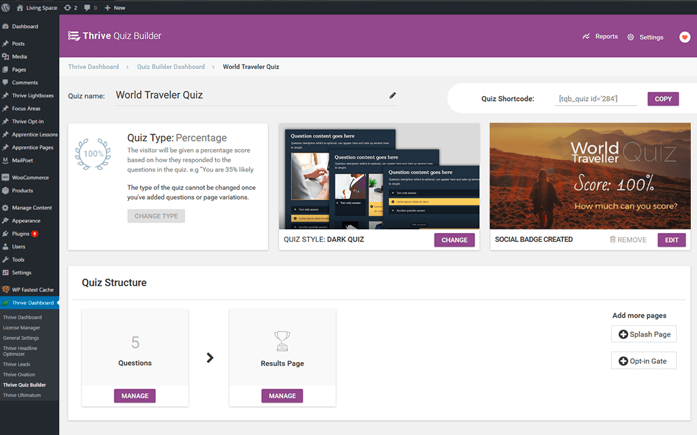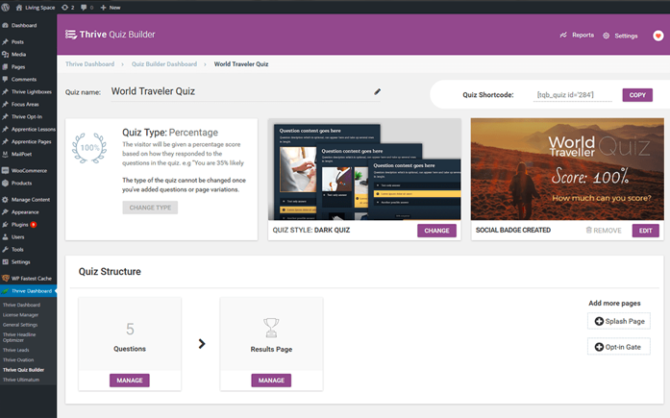 Quizzes are a fantastic tool for getting engagement from new and existing email subscribers. Here's how this strategy works: Create a quiz where you're able to see the answers. Using a tool like Thrive Quiz Builder, you can even build "branching quizzes" that let you ask different questions based on people's answers. This is also a GREAT way to qualify your subscribers or prospects! Identify your ideal client based on their answers, and offer a free discovery call at the end of the quiz. Genius!
2. Promote a Free Bundle with 3 Free Items, One of Which is a Discovery Call
This can be a great way to really increase the value of your freebie while also getting more prospects into your funnel. Offer 3 items as part of your freebie – for instance, an eBook, a checklist and a free discovery call. This may work better than simply offering a call on its own…because your prospects have the chance to see your expertise in action first (via the book and checklist) before actually booking the call.
3. Publish Your Blog Posts with a CTA or Popup at the End for a Discovery Session
Get lots of traffic to your blog? Make sure you give blog visitors a way to easily book a discovery call. You can do this by including a call to action at the end of your blog posts or by adding a popup box on your site (e.g., "Found this post useful but need more help? Book a call with me now!").
4. Use your Testimonials from Your Calls on Social Media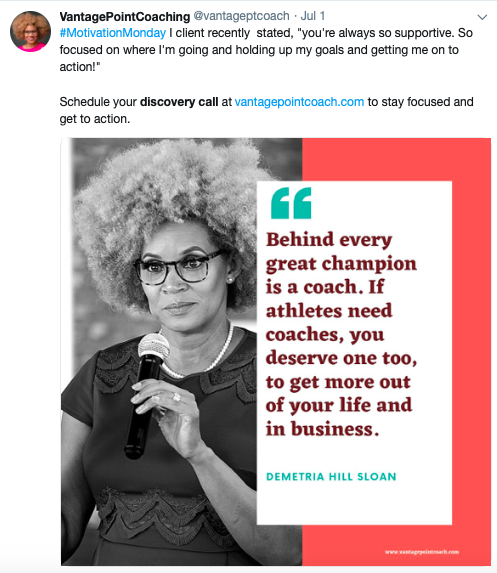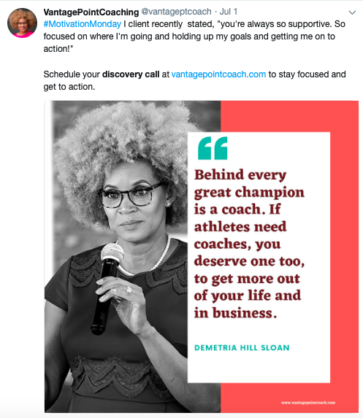 Have raving fans who have LOVED your discovery calls? Ask their permission to share their testimonials with your audience on social media. For instance, on Instagram, you could create a story with photos and testimonials, or on Twitter, simply share a written testimonial with a link to your calendar.
5. Include an Invite to a Free Call on the Thank You Page of Your Freebie
When you offer a freebie, I highly recommend creating a customized thank you page to direct visitors to afterwards. This page is marketing GOLD – you can include more info about yourself or your business, post links to your social media, or in this case, offer an invite to a free discovery call.
6. Participate in Someone Else's Giveaway

Don't have a big email list or social media following? No problem. Connect with someone in your niche or industry and inquire about participating in an upcoming giveaway. For most giveaways, you'll have the option to give something free to everyone on the list, as well as one big prize. For the freebie, you'll give to everyone, use something that leads to discovery calls – for instance, the 3-item bundle we talked about above.
7. Include a Link to Your Calendar in Your Email Signature
This is another quick and easy strategy that keeps you top of mind for your prospects. Include a link in your email signature that lets people know you're available for a free consult call and allows them to immediately book it themselves online. It can also be a great way to get more money from your existing clients… as you email with them, they'll be reminded that they can book a call with you at any time!
8. Add PushCrew to Your Website and Send Out a Message to Your Subscribers to Schedule a Call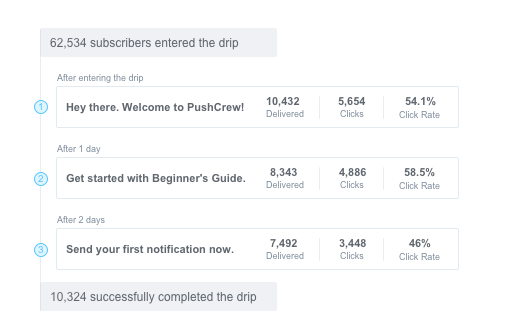 Ever wonder how some websites send push notifications to visitors when they're about to leave a site or a particular page? A tool like PushCrew can help with this. Set it up so visitors who interact with certain elements of your site (like your contact page, a form, etc.) get an automatic notification…something like "Hi Jen! For a limited time, I'm offering a free 3-minute discovery call. Would you like to book one now?". You can even use PushCrew to send an automated series of emails to people based on their interactions on your site – this is PERFECT for promoting your discovery calls to interested prospects!
9. Put a Link to Your Calendar EVERYWHERE – in your Footer, Sidebar, Main Menu Bar, Pop up, etc.
You might think that it's overkill to promote your calendar everywhere…but the truth is, most people who visit your website are suffering from "banner blindness". With so many ads and offers out there online, most people have become accustomed to simply tuning most of them out. For this reason, don't be afraid to include links to your calendar all over your site – in your footer, sidebar, in a popup, or even in the middle of your blog posts. Struggling with promoting your calls, even on your own blog? Some money mindset work may be just what's needed!
10. Have Your Contact Form Ask for a Phone Number – and if They Don't Call You, Call Them First!
When setting up your contact form or discovery call request form, try asking for personal info in steps. For instance, in step one, you ask for their name and phone number, in step two, you ask for their email and size of their company, etc. It's important to collect contact info as soon as possible in the process. This way, if they don't end up booking a free discovery call, you can call or email them first!
11. Give a Shout-Out to Everyone Who Books a Free Call on Social Media
You'll need to be careful with this one depending on your niche, especially if your clients come to you for personal or confidential matters. However, in certain niches, this can work really well…especially if you ask for permission first. Give a shout-out on social media to those who have booked a call, and let others know how they can book one too.
12. Send a Survey or Questionnaire to Your List and Gift High-Value Prospects with a Call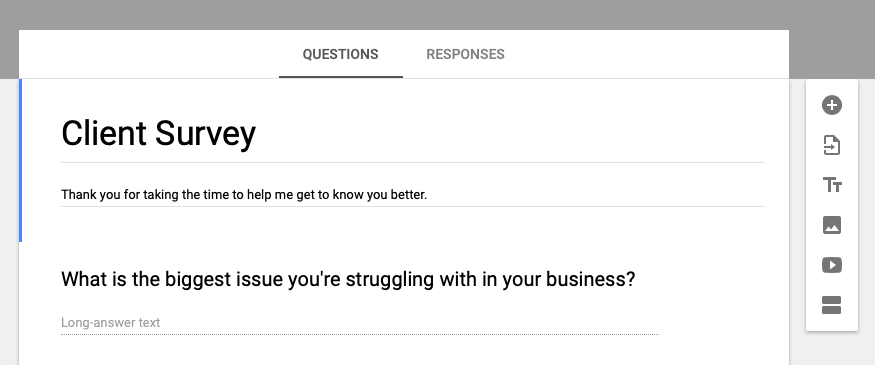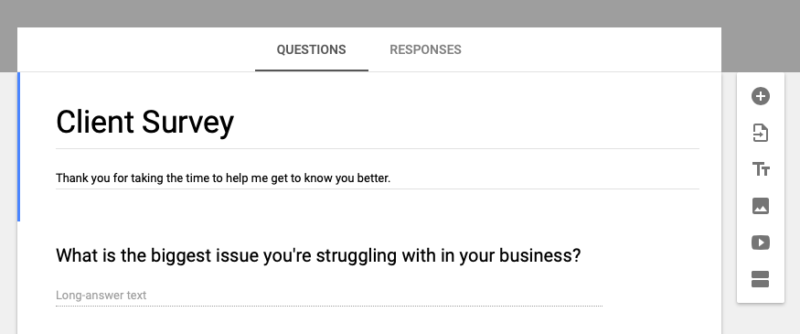 This strategy is similar to #1 but involves a survey rather than a quiz. Surveys or questionnaires are great for getting in-depth info from your audience. You can promote your survey to your email list, on social media, and on your website. Once you've looked through the completed surveys, offer free discovery calls to anyone who appears to be a really high-value prospect. I recommend using a tool like Google Forms (pictured above) to create your survey because you can collect an unlimited number of responses…for free!
13. Include a link to your calendar on all your social media profiles
Such a quick and easy strategy – but also so effective! When people interact with you on social media, your bio is the first place they'll go. Make sure you include a link to your calendar in an obvious location on your bio so they know they can immediately book a call with you.
14. Welcome new Facebook group members and offer a free discovery session
Have a Facebook group? People join your group to connect with you, so don't disappoint them! Depending on how many new members typically join your group, you can either PM new members or tag them in a welcome post, and offer a free discovery call.
15. Offer Discovery Sessions on Your Lives
Do you do live broadcasts on YouTube, Instagram or Facebook? If so, make sure to include a call to action at the end, letting people know they can book a free call with you. This is a particularly effective strategy when you can tie the call into the topic of your Live (e.g., "Need more help increasing your productivity? Book a free productivity brainstorming session now").
16. Create Facebook Events for Your Discovery Calls and Invite People to Them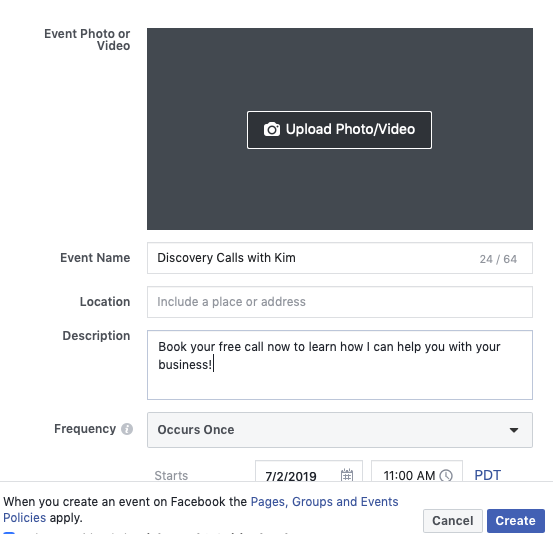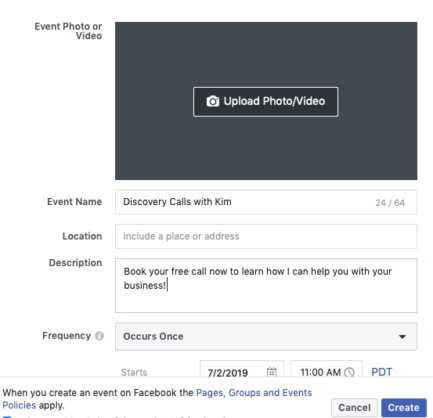 Set aside a certain day when you'll do a bunch of discovery calls, and then create an event for it. You can then invite your friends to "attend" the event and can promote the event on your Page, in your group, or on your personal profile.
17. Go through Your LinkedIn PM's and Offer Discovery Calls
Do you find you get a lot of messages on LinkedIn asking for help or advice? Rather than grumbling and groaning (or ignoring these messages), offer to hop on a free 30-minute call with them. This will give you a chance to ask some questions, qualify your prospects, and potentially move them further down your funnel toward becoming a client.
18. Connect with people on Twitter by Finding Relevant Hashtags, Answering Questions, and Offering a Free Call
You do have to be a bit careful with this one, but when done right, it works really well! Search Twitter for hashtags related to your business, answer relevant questions, and where appropriate, offer a free discovery call. Here's a strategy I like to use: hop on Twitter's Advanced Search and type in some keywords related to your business.  Alternatively, simply type the following into the Twitter search box: keyword? -http (of course, sub in your keyword here!). This will show you questions that contain your keyword, but that doesn't link out to an URL…so you can find actual questions, not blog posts.
19. Pitch Discovery Calls at the End of Webinars or Challenges
Do you offer free webinars or challenges for your audience? This is the perfect place to pitch your discovery calls. Same as with your Lives, offer free calls related to the topic of your webinar or challenge for optimal effectiveness.
20. Launch a Telesummit and Offer an Upgrade (which includes a call with you)


Hold a telesummit, and on the thank you page, offer a VIP upgrade/VIP ticket. This upgrade would include lifetime access to the records, training of some sort, as well as a phone call with you…all for the low price of just $47. Not only will this bring in a little extra cash, but it will also allow you to connect with your prospects on a more personal level.
21. Do a Flash Sale for One of Your Offers and Offer a Free Call as a Bonus
This is a great strategy for earning a bit of extra money AND booking discovery calls. Hold a flash sale for one of your products – for instance, for your eBook, online course, online training, etc. As a bonus, include a free call for anyone who books within, say, 24 hours. This can be a great motivator for people to buy your products, AND gives you the chance to connect with them one-on-one – so you can see if they're a good fit for booking your services in the future.
22. Create a Free and Paid Resources Section in Your Facebook Group, and Include a Link to Your Calendar
As you already know, Facebook groups can be a great resource for support and info for your audience. I recommend having a document in your groups' Files section that lists a bunch of free and paid resources your audience would find helpful. Make sure to include info about how your discovery calls work, and how your members can book one.
23. Create a "Promo Day" in Your Facebook Group (or Fan Page or other Social Media) and on that Day, Post a Promotion for Your Discovery Calls
This is a great strategy if you're afraid to overwhelm your fans, followers or group members with constant offers and promotions. Dedicate a certain day each week where members – yourself included – can promote their paid offerings. Start off the post by promoting your free calls!
24. Set Up the Action Button on Your Facebook Page to go Directly to Your Scheduler.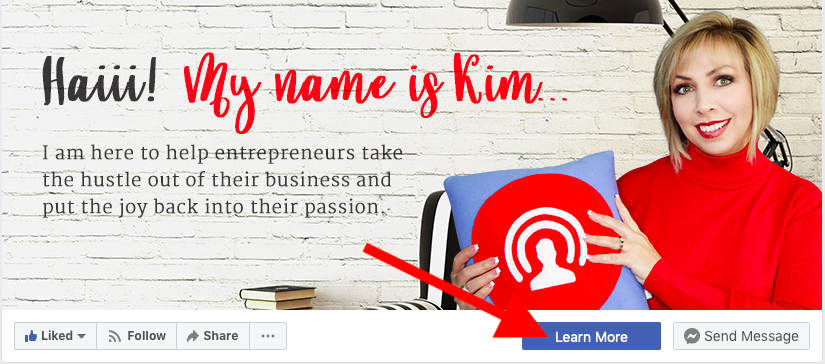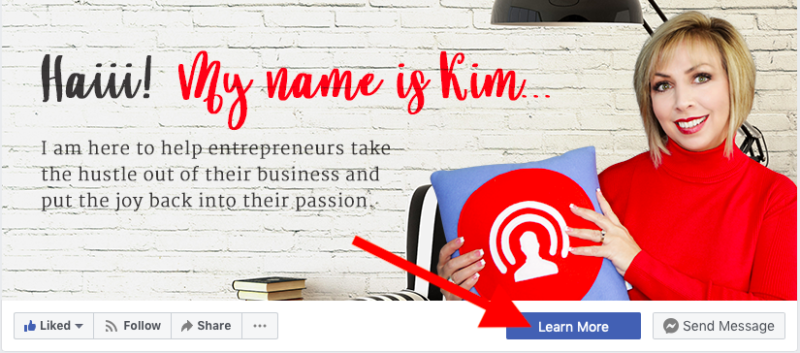 You know that button on your Facebook Page that lets you link to your website? Use this button to send people directly to your calendar. To do this, hover over your button, and then select the "Book with you" option. This will change your button text to say "Book Now", and you can link it up directly to your scheduler.
25. Post Images on Pinterest with a Link Back to Your Scheduler.
If you're using Pinterest, make sure it WORKS for you! Create eye-catching images to add to your Pinterest boards, and link back to your scheduler. This way when people click through on your pin, they'll immediately know they can book a call with you. Just be really clear about where the link will lead them so they aren't surprised or annoyed when they end up at your calendar.
I hope you've enjoyed these simple but effective strategies for how to get more clients. Looking for more guidance on getting clients or generating cash…just when you need it?
Check out these posts:
10 Ways to Get More Money from Your Existing Clients
How to Generate Cash Fast: Go from Zero to 5K in 5 Days
8 Powerful Pointers on How to Develop a Money Mindset that Will Open You to Bigger Possibilities (and Better Profits)
Which strategies above are YOU going to use to get more clients? Share with me in the comments below!
About Author