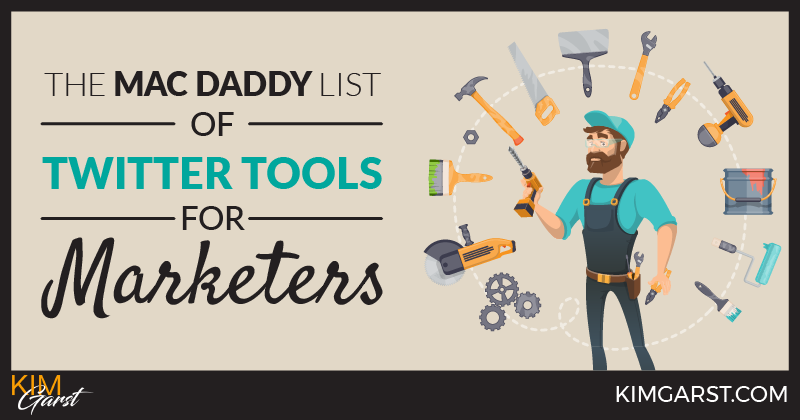 It's all in the tools! I believe that using the RIGHT ones can have a huge impact on how effective and how successful your efforts are. More importantly, how much time and energy you save using the right ones :-)!
Following are some of my favorite Twitter tools marketers can use to save time, be more efficient and ultimately, be more successful on social media.
Please let me know YOUR favorite Twitter tools in the comments at the end of this post!
The Mac Daddy List of Twitter Tools for Marketers
Hootsuite – Perhaps the most popular Twitter management tool, Hootsuite lets you schedule your tweets, find out what people are saying about your brand, and provides you with a comprehensive analytics suite (with the professional version).
TweetDeck – Allows you to manage multiple Twitter accounts and to create customized searches. Even allows you to create custom timelines you can embed on your website (great for sharing tweets from multiple users).
Social Oomph – Lets you schedule tweets, save and reuse drafts (saves you time re-typing tweets) and track your Twitter keywords. The premium version is great for finding new, targeted users to follow, and gives you access to tons of tools for managing Facebook, LinkedIn and even your blog posts.
Commun.it – Provides analytics, allows you to find influencers to follow, and lets you divide lists into custom categories. A great tool for analyzing and managing your network on Twitter.
Bit.ly – Allows you to shorten URLS to share on Twitter, and track how well your links are performing.
Buffer – Lets you schedule and track the analytics of your tweets; also allows you to schedule updates for multiple other social media platforms.
My Top Tweet – Ever wonder which of your tweets has received the most retweets? Or which of your competitors' tweets got the most traction? This Twitter tool will comb through the last 3200 tweets for any account and tell you the top 10 most popular tweets!
Twitonomy – Gives you detailed analytics like your most popular tweets, who has been retweeting you the most, how many tweets you're sending, and more. You can also see other users' stats  – great for competitive analysis.
SocialRank – Find new followers and manage your current ones; allows you to sort your followers into the most valuable (by reach and importance), engaged (by retweets, favorites and mentions), best (by reach and engagement) and more.
TweetChat – Find real-time conversations based on a specific hashtag. From TweetChat's website: "TweetChat helps put your blinders on to the Twitter-sphere while you monitor and chat about one topic."
Twubs – Another great Twitter chat tool. Lets you find real-time conversations happening based on a specific keyword.
Tagboard – Hashtag search tool that allows you search for and track important conversations happening on Twitter.
Followerwonk – Find people to follow based on keywords and locations given in their Twitter bio. Also provides data with which to analyze and track trends. Great for allowing you to focus your time and energy on activities that are giving you the best results.
ManageFlitter – Find new people to follow, see who has unfollowed you, and find the best time to post based on when your followers are most active.
TweetReach – This tool measures the impact of your conversations on Twitter. With the tagline "How far did your tweets travel", TweetReach gives you detailed data on any keyword or hashtag including estimated reach, exposure, top users who used that term and a real-time tweet timeline.
Hashtagify.me – Find the top 10 trending Twitter hashtags in your industry by simply plugging in a keyword.
Tweet Binder – Find detailed analytics for a particular keyword or hashtag, and organize your findings into your own customized 'binders'. Useful stats include tweets by language, device, top contributors and even related images.
Tweriod – Ever wonder what the ideal time or day is to tweet? Tweriod analyzes your and your followers' tweets so you can coordinate your tweeting strategy for maximum impact.
Tweepi – A great, simple tool for managing your Twitter followers. Find out who to follow (based on who your tweeps are following, who they're friends with, etc.) and who to unfollow (based on who's not engaging with you, following you back, etc.).
Klear – Allows you to find and connect with influencers, see the 'big picture' when it comes to your Twitter presence, analyze your audience demographics, and much more.
And there you have it – The Mac Daddy List of Twitter Tools for Marketers!
Looking for more social media tools to save time and streamline your efforts? Check out my posts 9 Social Media Tools to Save You Tons of Time and 11 Social Media Tools That Will Save You Time and Provide Key Marketing Data.
What's YOUR favorite Twitter tool?  Share with us below!